The David Rubenstein Show – Paul Singer – (Strategies for Successful Investing – Elliott Management) (2017)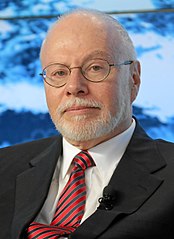 – 4 min version
– 24 min version
In a 2017 interview, Singer was asked to describe what he wanted the "headline" of his life to be. He paused for several moments before saying, "He tried to make a difference. He protected a lot of people's capital over a long period of time. He was steady, reliable." (source or at 23:08 above)
I myself have had many ideas about how companies should improve themselves, for example by producing a better product or website. I have also seen many of my submitted ideas implemented – but not with Sun Microsystems.
The business strategy for Sun may be found here: https://t.co/fWRVkxTo1U "hobby" in the sense that I wasn't employed to write it. I was very serious and shareholders should've benefited a lot financially. I recall McNealy saying a strategic error was underestimating 32bit H/W

— Future Secured (@future_secured) April 19, 2020
Note: regarding my strategic vision for Sun (link above or pic 2 below), I am still left wondering why TheInquirer.net's shutdown screen (a news site that briefly reported on the strategy back in 2003) is not accurate today as to when it itself began. Seems like it should read 2001 and not 2006, what am I missing? It was only acquired in 2006.
However, the whole idea of activist investing is new to me. It's like management consulting on steroids.
Today, imagining myself as an activist investor (or working closely with one,) I would investigate, test and eventually install free energy devices into pre-existing energy infrastructure. Regardless of outcome, that process should be broadcast live and also turned into a documentary.
Doesn't make much sense talking about environmental conservation (and destruction) without also talking about free energy technologies (beyond just renewables.) You need the carrot, not just the stick against Earth-destroyers.

— Future Secured (@future_secured) April 17, 2020